Top 10 things to do during your stay at Snowdonia Snug Accommodation
2. Walk up Cader Idris (Cadair Idris)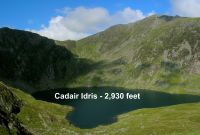 Snowdonia Snug accommodation is the perfect location to climb Cader Idris via 'The Pony Path' route. Experience breath taking panaromic views of the second most popular mountain in Wales.
Cader Idris is some 2930 feet above sea level. The Pony Path route is the easiet of the ascents and is about 3 miles to the summit and a 1800 ft climb.
More information on Cader Idris can be found here.
Book Snowdonia Snug online from £70 per night for two people